Well readers, we made it. Finally. And I only cried at my desk once. And drank 1/2 price margaritas mid-week (I generally save my drinking exclusively to wine and weekends). But here it is, our Friday. TGIF.
This week's Follow Friday blogger is my good friend Jenn over at
Monkey Butt Junction.
Jenn is not only an awesome person, but she is also the ONLY attorney I know that can rock a skull & crossbones shirt, to work and KILL it.
Plus she is going to be my sugar momma. And really, what more can you ask for?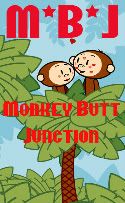 This week I thought I would try a little one-on-one interview with Jenn to let my readers see for themselves why I think they should follow her...

Who are you (name/blog/things we should know)?
I am Jenn, and I blog over at
http://www.monkeybuttjunction.com/
.
My 8 month old son and my awesome husband rock my world.
What got you started blogging and what do you blog about?
I started blogging years ago with a goofy little personal blog on Myspace, and from there I went on to be a paid blogger for 451 Press and the Examiner, writing about tattoos of all things, and now I just focus on my Monkey Butt Junction blog.
If you were another person would you be friends with you?
Yes, if for no other reason than because I make a mean eggplant parmesan.
How do you spend your free time?
I recently began jogging, which is crazy because I have always hated running. Now I'm embracing it – how weird is that? Obviously I love writing, and with that comes a love of reading. I'm big on self-sufficiency and green living so I garden and can and even make my own wine (want some? I don't know how to make a small batch – I get 28 bottles at a time). And I always seize the opportunity to just go out and experience life with my son. He's been to museums, gallery nights, tattoo shops, antique stores, sporting events, and we're just getting started. He's so happy – I want to be just like him when I grow up.

If you were a crayon, what color would you be?
Crimson.
Other than Taking It One Step at a Time, what are some of your favorite blogs?
I love Enjoying the Small Things and Pioneer Woman – I turn to those for daily inspiration. I admire the daring style of Blogging Dangerously, and whenever I need a laugh I turn to Hyperbole and a Half.
~~
There you have it. If you haven't already popped over to Monkey Butt Junction go do so, and tell her Jess sent you!
Have a great weekend all!