It's Friday once again! I can already feel the snow in the air...it's almost Christmas!!
I hope everyone had a wonderful Thanksgiving and is ready to kick off the holiday season. I know I am!
This weeks Featured Follow Friday Blogger is the AWESOME Melissa from
The Sippy Cup Mom.
Melissa has a fantastic blog and is always ready and willing to give out advice to us lesser known bloggers in the internet world. Definitely head over and say hi!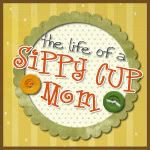 Who are you (name/blog/things we should know)?
My name is Melissa and I'm the mama to one toddler! My blog is The Life of a Sippy Cup Mom. When I'm not blogging I love hanging with my family, reading and watching Cardinals Baseball!
What got you started blogging and what do you blog about?
I started blogging in March 2010 because a lot of my friends blogged and it was a great way to keep people updated on Hayden and our little family. I started putting in great deals that I found and it has grown from there! Now I still blog about our family and things we do around our great town of St. Louis but also reviews, giveaways and more!
If you were another person would you be friends with you?
Heck yes I would! ;-)
You have a HUGE following over at Sippy Cup Mom. What's your secret and do you have any advice for those just starting to gain an audience (aka ME)?
Aw, you are so sweet! My biggest advice to visit other blogs and comment! I just started going to other blogs that I liked and leaving comments! Being on Twitter is a huge help too! I have met so many other fantastic bloggers on Twitter! You can definitely join Blog Hops which is a great way to gain followers and I have found so many great blogs that way.
With the holidays approaching are there any specific traditions that you are looking forward to sharing with your little man?
I love holidays and I think it is so much more fun since I have had a child! More stressful of course, but a lot more fun! There isn't anything specific that we have, but I hope to start some things. We always go look at lights at Santa's Kingdom, bake and we made ornaments last year!
Other than Taking It One Step at a Time, what are some of your favorite blogs?
Of course yours! I read SO many blogs!
I love a
belle, a bean & a chicago dog
which is one of the first blogs that I started reading. I also love
Real Life With Kids
,
Mama B
and
Mommy of a Monster
!
***
Just a reminder, I would love to feature my readers blogs so PLEASE let me know if you are interested!